【Elegant Full Lace Back】
Floral lace strap and back design adds more charm for you. Cool Release fabrics added to wick away moisture and diffuse heat, also reduce absorption of Sunlight UV to keep you cool

【Silky Smooth】
With Tencel Modal added to give you super cozy and comfy feel. They're so soft lightweight and breathable that makes you feel like wearing nothing. Tencel Modal microfiber is made from wood pulp and other sustainably sourced sources with high resource efficiency and low ecological impact so it's eco-friendly

【Supportive with Natural Shape】
Full coverage designed for maximum containment. Stretchy elastic underbust band offers a smooth, secure feel. Wireless design promotes free movement of your breast and hence better detoxification, which is good for your breast health

【Absolute Comfort】
Built-in removable pads, can easily take out or remove according to the requirements of yourself, e.g. you may take it out for sleeping or at home. 
【Professional Craftsmen】
Products are handcrafted by experienced artisan makers with passion, care, and attention to detail
--------Product Specification--------
【Size】
M Body Height 140 - 165 cm;Cup Size A - B;Suitable for Bra Size 70 - 75 (EU) / 30 - 34 (US)
L Body Height 160 - 170 cm;Cup Size A - C;Suitable for Bra Size 75 - 80 (EU) / 34 - 36 (US)
XL Body Height 165 - 175 cm;Cup Size B - E;Suitable for Bra Size 80 - 85 (EU) / 36 - 38 (US)
Q/XXL Body Height 170 - 180 cm;Cup Size C - F;Suitable for Bra Size 85 - 95 (EU) / 38 - 45 (US)


**The bra design is for zero feel and suggest to get one size smaller if prefer more accentuated effect.
【Color】Black, Elegant Apricot (Beige), Grey and Sakura Pink
【Material】50% Tencel Modal, 43% Cool Release, 7% Elastane
【Product of Origin】Tencel Modal from UK, Cool Release technology from Japan, made in Taiwan
【Washing】Suggest to use neutral laundry detergents (i.e. do not contains fluorescent agent, brightening agent or bleach)
--------Promotion--------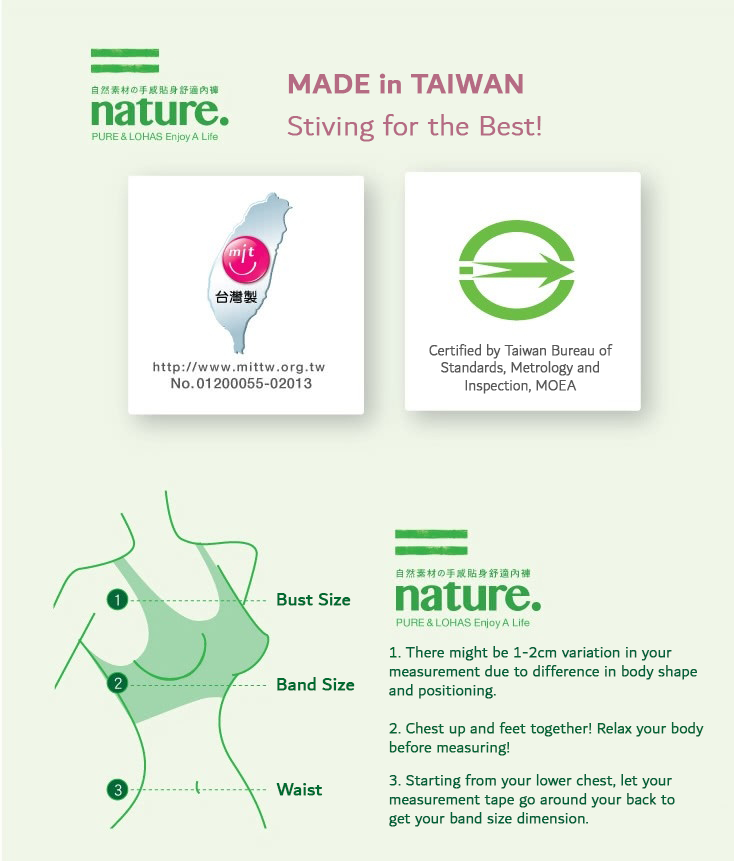 Note: The pictures are for reference only. Due to the differences in color monitors/screens and lighting used during photo-shoots, the exact color or texture of the final item may vary from what is seen on screen. The actual merchandise should be considered as final.