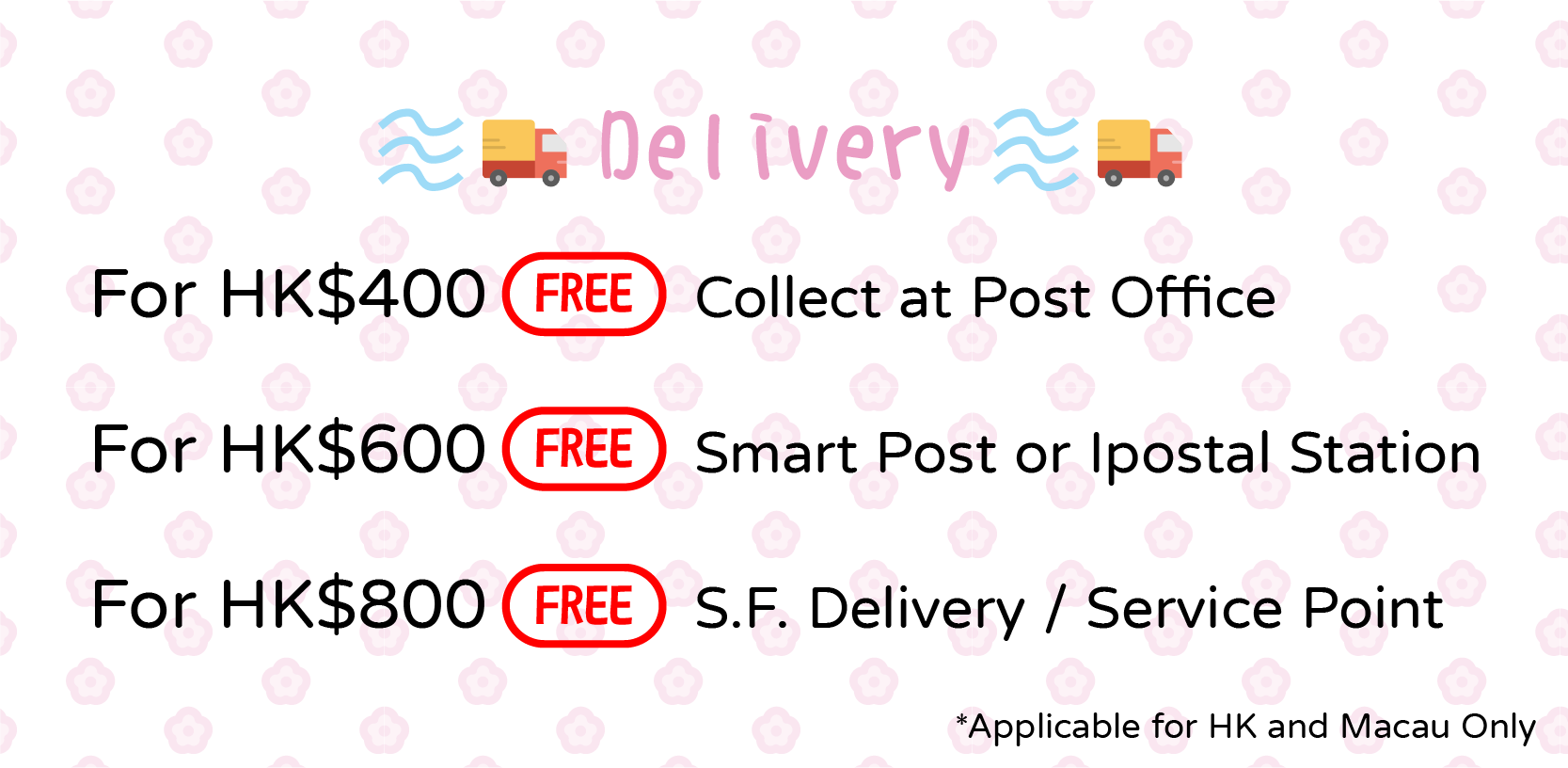 1) Get from Hong Kong Post Office Counters
Order will be mailed to designated post office (you can track the delivery status through HK Post Office website). Delivery fee is HK$10 or free upon purchase of HK$400 or above. HK Post Office will notify you to collect the parcel at your designated post office through mobile SMS and the SMS message will need to be shown for verification during pick-up

2) HK Post Office Smart Post Service

Order will be mailed to your designated delivery address or Ipostal Station through HK Post Office Smart Post Service (you can track the delivery status through HK Post Office website).  Delivery fee is HK$25 or free upon purchase of HK$600 or above. It is required to sign for acceptance when collect the parcel at your designated address. When door delivery fails, a collection card will be left at the address and you will then collect the parcel from the respective post office according to the instruction on the collection card.
If you choose to get mail from Ipostal Station, you will be notified to collect your order within 48 hours through SMS. After 48 hours, the parcel will be transferred to the nearby post office for counter collection. 
3) S.F. Express (applicable to Hong Kong and Macau customers)
Order can also be dispatched through S.F. Express and you will pay the delivery fee upon parcel collection. Delivery charge is HK$30 (HK$36 for Macau) at the moment or will be free upon purchase of HK$800 or above. 
(Final delivery charge is subject to the latest pricing of S.F. Express.)
For customers outside HK and Macau, please select "Overseas Delivery" when placing order and we will contact you shortly regarding the delivery and respective charges.
Remark 1: Delivery through HK Post Office is ordinary mail in nature without any compensation arrangement. If a more secured delivery is preferred, you can opt for S.F. Express
Remark 2:We are not responsible for any delivery failure (e.g. parcel loss, missing or incorrect information, non-collection before the deadline).