********

Laundry Ecoegg Fresh Linen Refill Pellets 210-wash

********
【Powerful Breakthrough】
Wonder if natural and mild washing product can clean well? Award winning laundry ecoegg laboratory test proven to perform just as well as regular detergent! It also can cleans our reusable menstrual pads very well!
【Replace Washing Detergent & Fabric Softener】
Natural mineral pellets inside the laundry ecoegg can lift away dirt from the fabrics because one end of the surfactant molecule is attracted to water, while the other end is attracted to dirt and grease. Pellets also naturally ionise the water, and help softens the fibres of the clothes, acting as a natural fabric softener. 
【Perfect for Sensitive Skin & Babies】
Certified by Allergy UK and National Eczema Society that suitable for allergic skins. 
Fragrance-free egg also achieved top Gold Award for Best Baby Skincare Product by Prima Baby Magazine 
【Long-lasting & Cost Effective】
Our 210 refill pellets can last for 210 washes; that's at least 1 year's worth of laundry for the average family, less than $0.7 per wash!
Just pop it in the drum of your washing machine - no powder, liquid, tablets or gels required. The ecoegg Laundry Egg is also suitable for handwashing. Simply place the ecoegg to soak in water for 5-10 minutes then handwash as normal.
--------Specifications--------
[Contents] Fresh Linen
refill pellets, eggshell not included
[Ingredients] Cleaning pellets: biodegradable, including > 30% anionic surfactants, 15%-30% non ionic surfactants; Ecoegg Shell: Non-BPA rubber plastic/ Polypropylene block co-polymer, Thermoplastic Elastomer and Glass-Filled Polypropylene; Fresh linen smell comes from small amount of patchouli essential oil
[Do not contain] Do not contain harsh chemicals, petrochemicals, enzymes, optical brighteners, phosphates, parabens, SLS, SLES, microplastics 
[Product of Origin] Made in UK 
--------Instructions--------
【Refill White Pellets】After using for about 70 washes or washing power reduces, you can then top up 1 pack of white pellets to the egg without removing the existing pellets.
【Washing Machine】Pop the egg in the drum of your washing machine and then switch on washing machine. Get the egg out after wash to dry.
**Tips: Please leave some room in the drum to clean well. Also deep clean the washing machine regularly.
【Handwash】
Soak the ecoegg in water for 5-10 minutes then handwash as normal.
If there are stains on fabrics, suggest to use stain remover to rub the stain and then proceed the washing. Stain remover is not required to clean Lovely Cotton reusable menstrual pads and ecoegg itself is sufficient.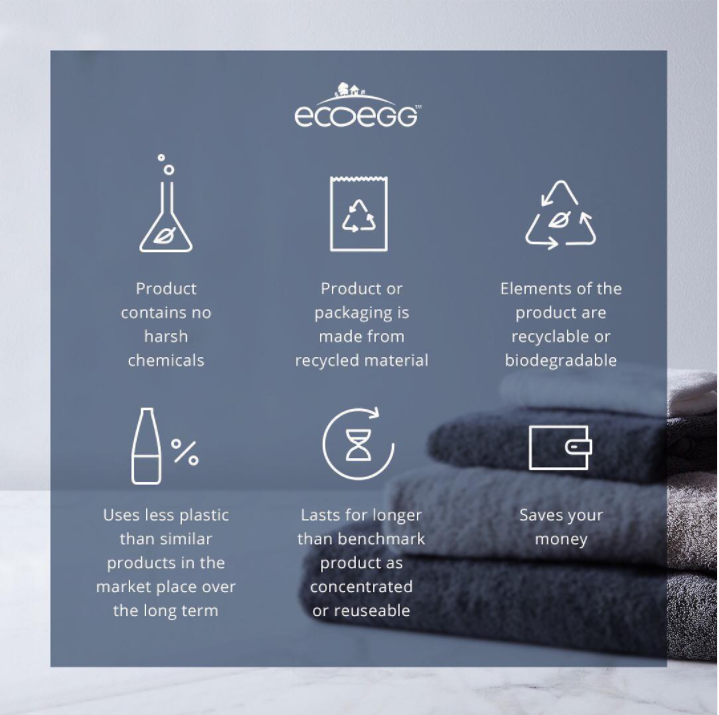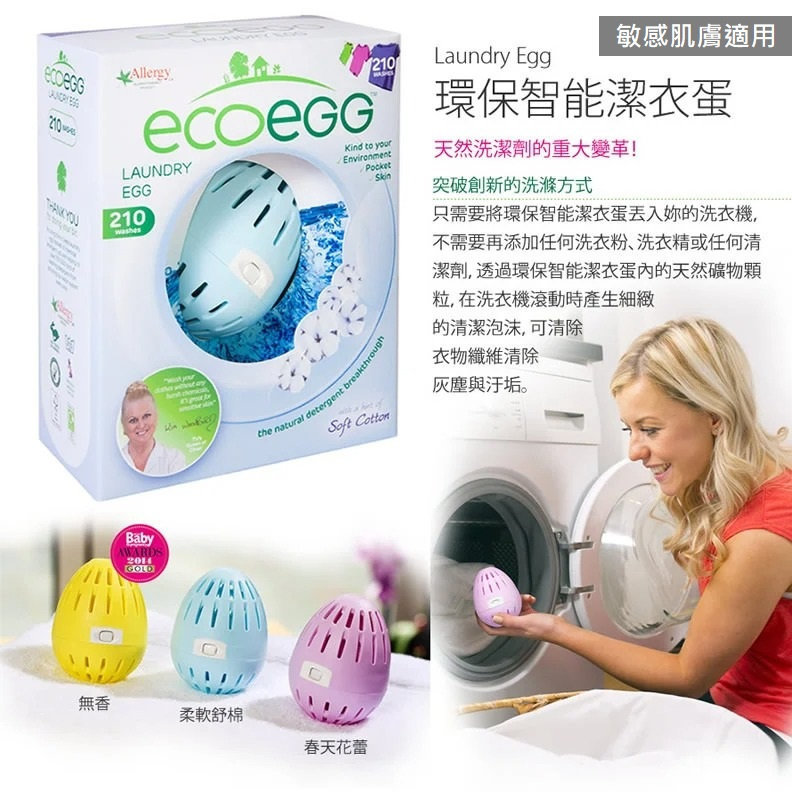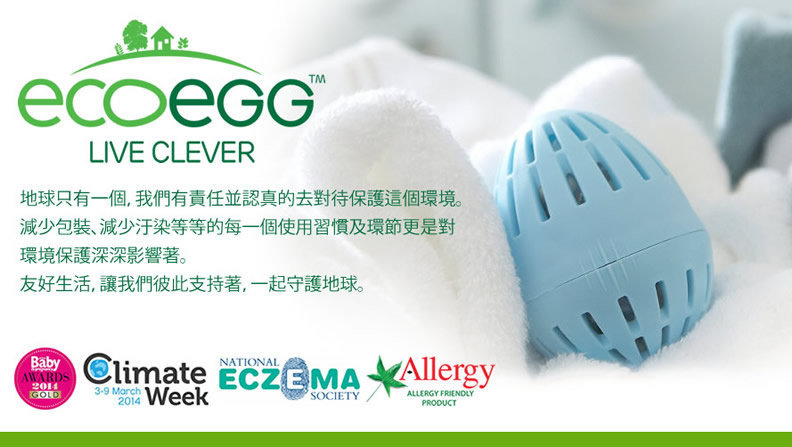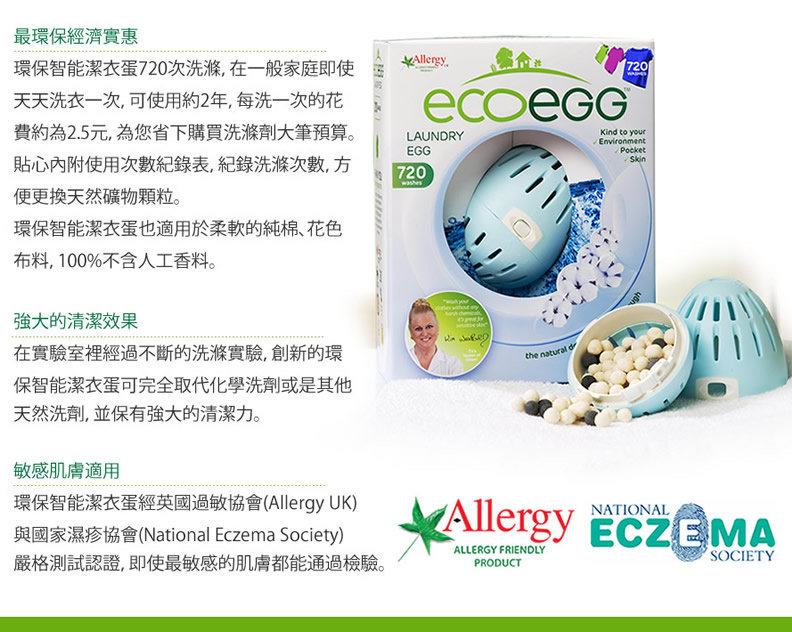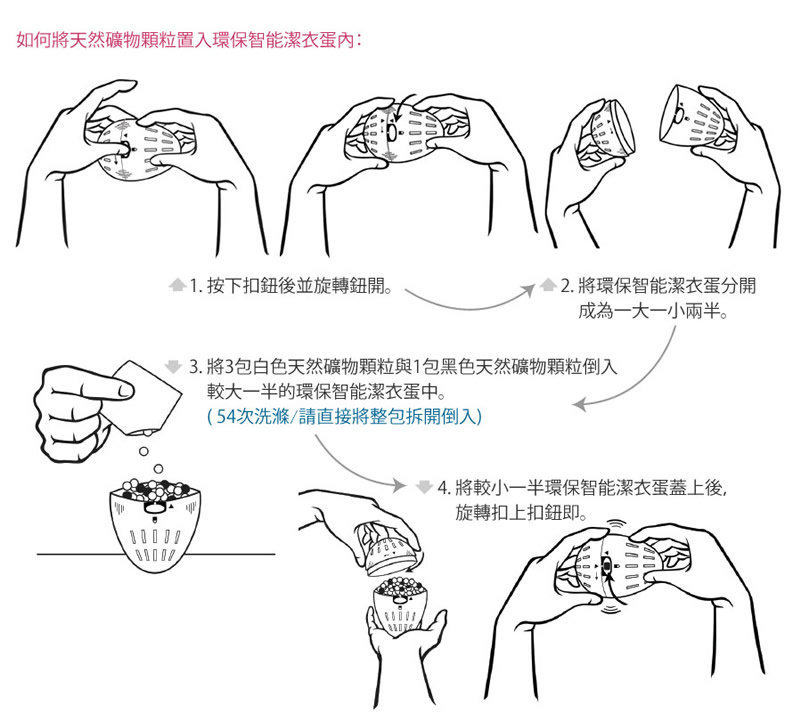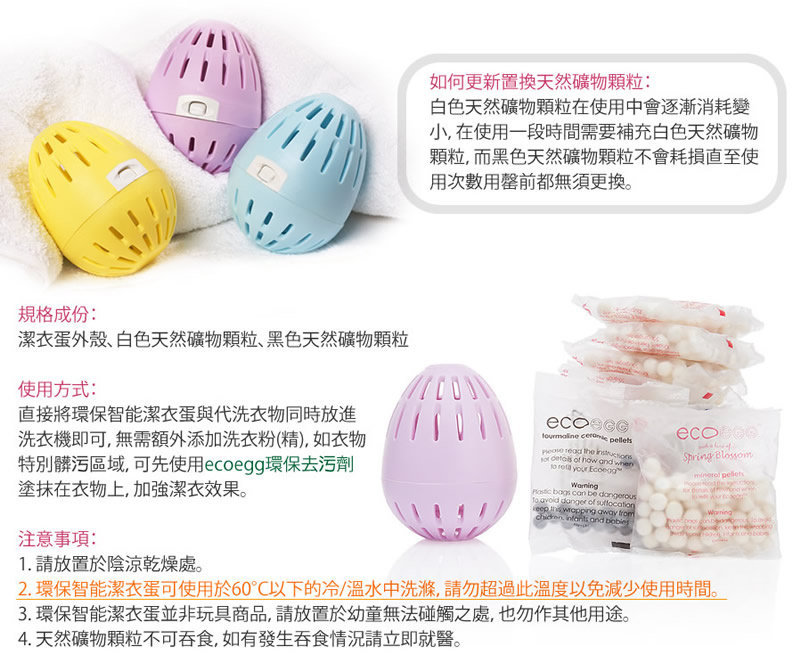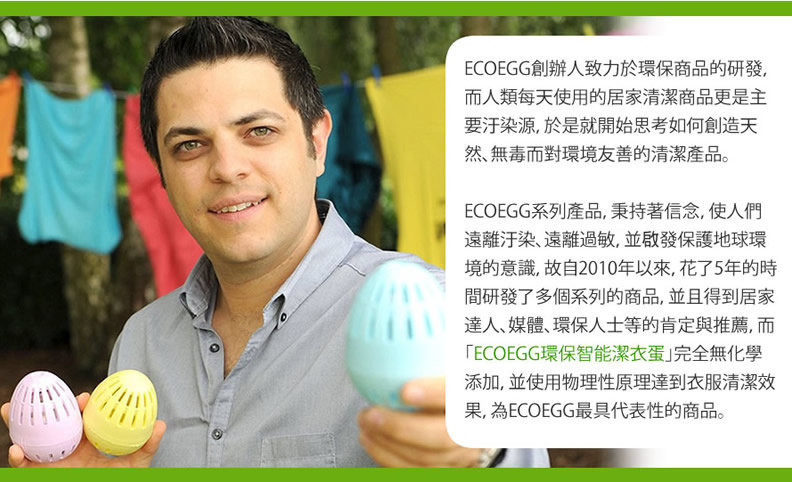 Ecoegg cannot be used above 60 degrees Celsius.
Cannot be used inside dryer so please take it out from the drum if dry clothes after wash.
Ecoeggs were developed for people with sensitive skin and to be kind to the environment Therefore, it is only a hint of essential oil fragrance that they smell. Allergy UK are very happy to also endorse the fragranced Laundry Eggs. If you are used to a strong fragrance, then it is fine to use a little fabric conditioner, or alternatively add few drops of essential oil in the fabric conditioner compartment.
Please keep out of the reach of children.
--------Frequently Asked Questions--------
Do I need to add washing determines when use Ecoegg?  
Laundry ecoegg itself is the laundry product so no washing powder, liquid, tablets or gels required. If there are stains on fabrics, suggest to use stain remover to rub the stain and then proceed the washing.
Will ecoegg harm the washing machine? Can I use it in all types of washing machine?  
No worries. The eggshell is made of durable rubber plastic and do not harm the drum. It also works for all washing machines.
Can laundry ecoegg be used to clean Lovely Cotton reusable cotton menstrual pads?  
Definitely and it cleans well! You can first have shower together with the used pads. Then drain out all the bloody water before machine or handwash the pads using ecoegg. The pads can stay soft and can dry using low temperature if you want it to be softer.