How to Buy
1. Put into shopping cart
After selecting how many and color (if applicable) you'd like to buy, click "ADD TO CART" .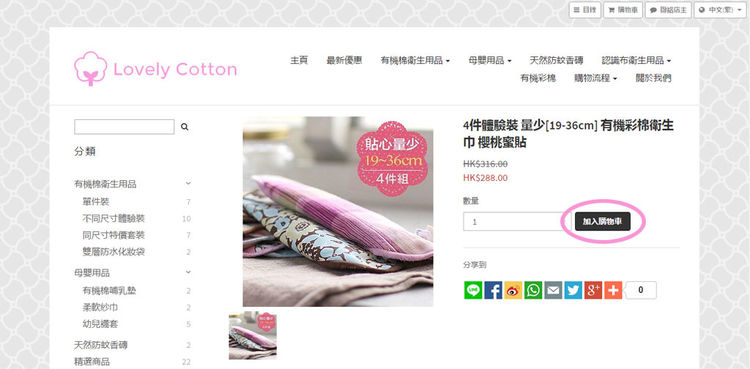 After shopping, please click the "CART" on the top right hand corner and choose "Checkout".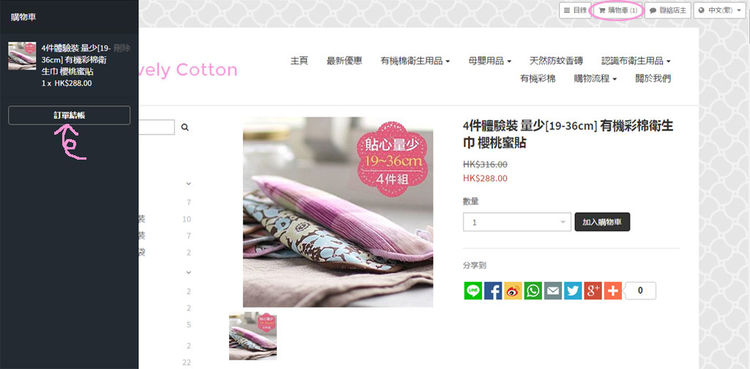 You can amend the quantity or delete the items in the "Checkout details" and fill in your information. You can also leave us messages in the remarks.
Sign up to be our members
to enjoy faster checkout
and get our latest promotions!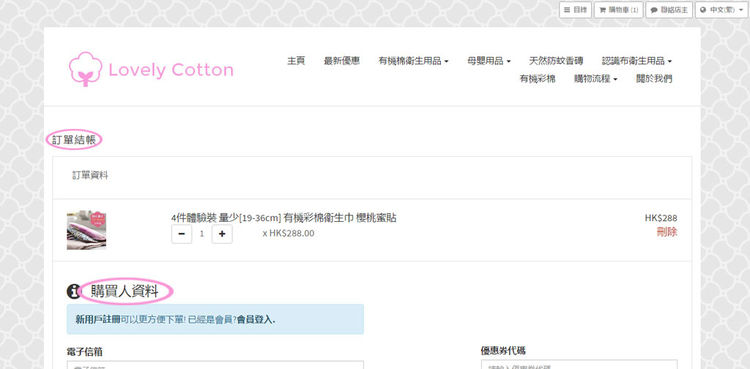 Local Mail :

your order will be mailed to your address or post office through Hongkong Post and delivery fee is $8. 

FREE f
or purchase HK$120 or above.
Registered Mail
:
 If you'd like your order to be delivered using registered mail, HK$15.5 will be charged. Please also provide your name (same as HKID or other identification document).
"Smart Post" from post office
:
For purchase HK$400 or above, your order will be mailed through Smart Post service. 
Your orders can be mailed to your address or picked up from post office and the mail status can be tracked online. 
Please also provide your name (same as HKID or other identification document).
Note 1 : Mail via the Smart Post Service is an ordinary mail item in nature without any compensation arrangement. If you prefer a more secured way of delivery, please remark it in your order and any additional costs will be charged.
Note 2 : We are not liable for any loss of mail items or failure to collect goods due to inaccurate information. 
2) S.F. Express Self Pick-up
You can choose to pick up your goods from S.F. Express and pay the delivery fee when you collect the goods. The delivery charge is HK$15-22 in general  (changes from time to time according to S.F. Express). 

For purchase HK$400 or above, this charge will be waived.
For overseas customers, please click "Messages" on top right hand corner and contact us before you make the payment so that we could calculate the delivery charges. Thanks!  
1)

Paypal

Through Paypal using your credit card (you'd need a Paypal)

2)

Bank transfer

(HSBC, Bank of China, Standard Chartered)

/ Payme

: After the transfer, please email (lovelycotton525@gmail.com) or whatsapp (96819790) us. Please pay within 3 days after placing your order, otherwise your order may be cancelled.
We will arrange product delivery within 3-5 working days after receiving payments (except pre-order items). 
You'll receive an email notification confirming your order after placing the order and making payments. Email shows your order number, order status, payment status, delivery status and the link to your order. Member can also log into your account and click "My account" on the left upper corner to check your order status.
If you do not hear from us within 3 working days after placing the order, please contact us through email lovelycotton525@gmail.com or whatsapp 96819790.
We'll place order to supplier after receiving payment and will arrange product delivery to your address as soon as practicable. It takes about 7-12 working days in general.
Note: Cotton pads are handmade products. It is normal to have some loose threads and slight size variance. Photos of our goods are all taken using real products. Pattern could be slightly different even for the same cloth due to different location. Lovely Cotton reserves the right to make decisions at its sole discretion.